Copa Airlines: Waiver Guidelines for New Tickets← Tilbage
---
As of
September 1, 2020
, new COVID-19 waier guidelines become effective to provide flexibility for passengers purchasing new tickets.
WAIVER CODE: W5200901CVNW
TERMS AND CONDITIONS
Tickets issued: September 1st to 31st 2020
Original travel dates: from September 1st, 2020
Last date for change: before original travel date
New travel date must be completed by: December 31st, 2021
​
ADDITIONAL INFORMATION
Option A: Passenger requires a flight or date change
Flight or date change is allowed waiving the change fee and fare difference, as long as there is available space in the same cabin.
During high season there is no exoneration of fare difference.
Change must be made in the same class.
Option B: Pasenger requires a change or origin/destination
The change of origin/destinatio is allowed exonerating charge for change, but fare difference may apply.
*If the passenger is No Show, all charges apply (change fee and fare difference).
With this notice, 2 waivers become effective and will apply according to the date of issuance of the ticket. Below we detail their differences for applicability: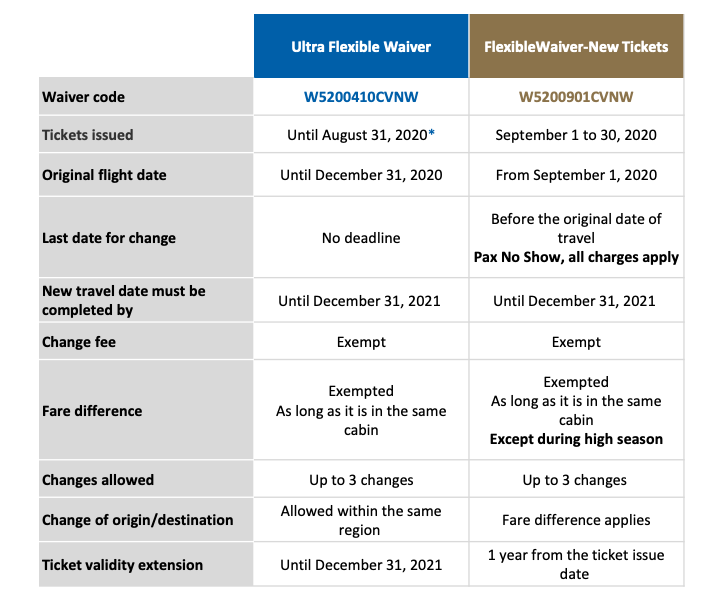 *No Show tickets or tickets opened by the customer before February 1, 2020 do not apply for COVID-19 waivers. If the customer wishes to change their travel dates, applicable change fees and fare differences must be collected.
HIGH SEASON PERIODS
December 15, 2020 -- January 31, 2021 (End of year 2020 and Summer 2021)
February 11, 2021 - February 21, 2021 (Carnivals 2021)
March 26, 2021 - April 5, 2021 (Holy Week 2021)
June 15, 2021 - August 15, 2021 (Mid year high season)
December 15, 2021 - December 31, 2021 (End of year 2021)
IMPORTANT
Three(3) changes are allowed as of this notice.
Applies to all regular, award, interline, and code share tickets on stock 230.
The change fee (administrative fee) for travel agency ticket is waived.
Applies to all rates: regular, group, net and dynamic.
Applies to companion rewards tickets.
Waiver code must be documented in the endorsement box/field and in an OSI​