Copa Airlines: Operational Changes for October← Tilbage
---
COM-20-069
Tuesday, September 15
th
, 2020
Dear Travel Agencies,
We inform you about the operational changes for the upcoming month of October. The itineraries and destinations you will see below are available at your GDS. We may add more destinations as we obtain the required permits from the authorities.
We suggest you stay aware of our releases on social media and
copa.com.
Operational Chart October

*Operating destination: MEX, MCO, MIA, UIO,CUN, GUA, GYE, MCD, GRU, LAX, JFK, IAD, MVD, GRU, LAX, MCO, JFK, IAD: only departures from PTY
Rest of destinations: round trip from PTY
Available Destinations (according to restart date)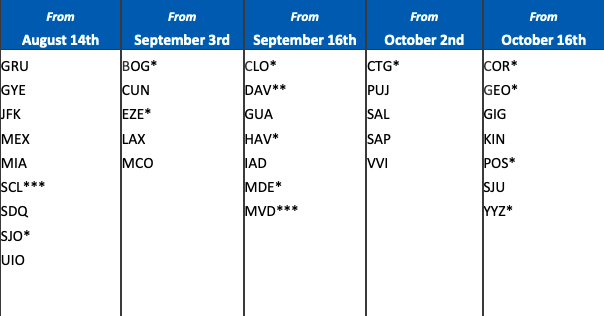 *SJO, BOG, EZE, CLO, HAV, MDE, COR, CTG, POS, YYZ: destnation subject to government approval.
Costa Rica: Entry restrictions apply.

**DAV: from September 28th.
***Uruguay, Chile and Argentina allows the entry of only nationals and residents.
****Panama allows the entry of only nationals and residents until October 12th (subject to government restrictions).
November itinerary is subject to change according to countries' opening.
​IMPORTANT INFORMATION
It is important that you verify your systems, queues and reservations, so that you can validate these changes.
We remind you that on September 1st a new waiver (W5200901CVNW) came into effect for tickets purchased after this date. This means that 2 waivers will remain effective and will apply according to the date of issue to the ticket.
Please note that the previous waiver for tickets issued until August 31, 2020 (W5200410CVNW) does not, soif the same class is not available you should call the Call Center.
Due to these changes, the Call Center may face a high volume of calls. We appreciate your understanding.
Additional Information
If you provide information to the client on travel requirements, you should recommend that they review the Travel Requirements section constantly so that they are kep aware of any changes or new requirements that may impact their trip.
Visit copa.com and go to the Travel Requirements section